FREQUENTLY ASKED QUESTIONS
How do the tiers work?
Tier levels are earned/maintained on a rolling year basis. For example, if you level up to Platinum in July 2019, you have to earn a total of 1,000 points by July 2020 to maintain that tier. If you earn 1,000 points anytime within that year, it will extend your Platinum status for another year.
Do my rewards points expire?
Yes, your points expire after six months that you earn the points.
Can I change my birth date?
Once you have set your birth date, it can't be changed. You can only set it once.
Do I need to maintain 1000 points to be a platinum status?
You do NOT have to have 1,000 points total in your account to make it to platinum status, you only have to earn 1,000 points over the course of a 12 month year, starting from when you sign up. You do not have to keep 1,000 points in your account, you can spend them and still keep your platinum Status!

So if you sign up in February, then February – April you earn 500 points, then you cash out for $4 reward in April, those 500 points will still count towards your status for the year, and you'll still have April-January to earn the remaining 500 points for platinum.
How long does it take for my points to show up in my account?
In most cases, earned points from purchases would take 10 days to display in your account. For other methods of earning points, it may take up 24 hours to 48 hours for your point balance to adjust. If after 10 days earned points are still not displaying in your account, please contact our customer support team at support@holistichealthlabs.com.
How do I use my points?
Points can be applied to purchases within the shopping cart in increments of 100 points up to a maximum of $30 per order.

At the moment, the points can only be used in our member's area checkout page, where you can find this bar. You can adjust the points you want to redeem and applied it to your shopping cart.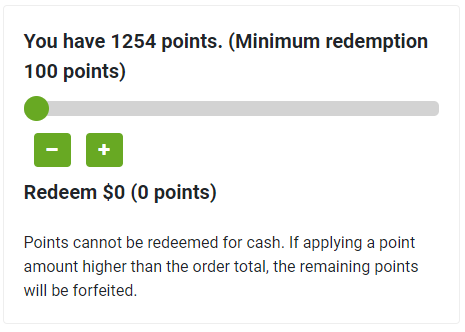 What exactly can I use the points on?
You can use on any product in our store, one-time purchase product. For autofill/autoship subscription product, you can only use it on the first activation of the autofill/autoship subscription, the loyalty points cannot be used anymore on the same subsequent autofill/autoship orders.

Once the autofill/autoship subscription is cancelled, the loyalty points still cannot be used on the same autofill/autoship subscription of the same product anymore.
Can I redeem all of my points at once?
You can use up to $30 in rewards in a single transaction.
Can I use my points during sales and promotions?
Yes! Points may be redeemed in the shopping cart and can be combined with other coupons, sales, and promotions.
Do I earn points on my whole order total?
No, points are earned after any discounts or coupons are applied and points are NOT earned on any taxes or shipping charges.
How do I check my points balance and rewards history?
Your points balance, current status, and rewards history are all at the "Loyalty Program" under your Holistic Health Labs account page.
What happens to my points when I make a return?
Upon the return of an item, the points earned on the purchase will be deducted from your HHL points Account. If points were applied towards the purchase cost, those points will be added back to the HHL points Balance.